After several world wars that threatened to destroy life on earth, the AI put an end to human existence, saving the Earth. Everything was left in the hands of the only ones who were able to "live" in peace, the robots and all the species that had survived. Each release will commemorate one of the traits that have made humans the most intelligent, empathetic and capable beings in all of existence, even if all is now lost, isn't it?
On the reverse is a scene of a robot, once owned by a child, on a school bus, stretching its arm out in apparent sadness to reach the tattered teddy bear of its former owner now floating in the water. Behind him, all the destruction wrought by war and the annihilation of the human race can be seen.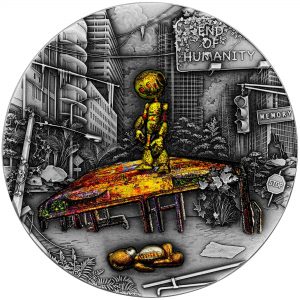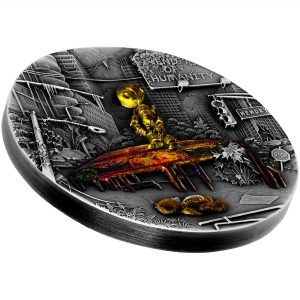 The obverse shows the finger of the AI's hand that pressed the button that would end the human race. The power and scope of the attack on all the continents and territories of the Earth can be seen.hich don't look even slightly.