The Eight Immortals (八仙) are a group of legendary xian ("immortals") in Chinese mythology. The power of each immortal can be transferred to a vessel that can grant life or destroy evil. Together, these eight vessels are called the "Eight Covert Immortals".
Zhang Guolao was a Taoist fangshi who lived as a hermit on Zhongtiao Mountain in Hengzhou during the Tang dynasty. He claimed to have been a great minister of Emperor Yao in his previous life.
The reverse depicts Zhang Guolao riding on his white mule facing backwards, which is how he is usually depicted, riding along the mountain roads, visiting villages. With his right hand he holds his long beard and with his left hand he holds his emblem, a bamboo drum in the shape of a tube with two iron rods or mallets representing immortality. In the sky three herons can be seen at different distances and in the background part of the residence of the gods.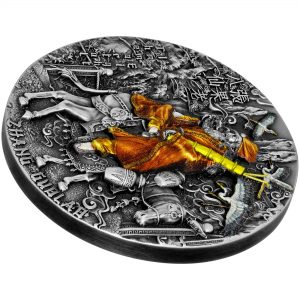 The obverse depicts another part of the residence of the gods and several herons, from the farthest to the nearest, which always accompany the eight immortals, and the effigy of Queen Elizabeth II.