Lancelot du Lac is typically depicted as King Arthur's close companion and one of the greatest Knights of the Round Table. A hero of many battles, quests and tournaments, and famed as a nearly unrivalled swordsman and jouster, he becomes the lord of the castle Joyous Gard and personal champion of Arthur's wife, but when his adulterous affair with Guinevere is discovered, it causes a civil war that is exploited by Mordred to end Arthur's kingdom.
The reverse shows the moment when Lancelot meets Guinevere in distress and saves her with his 24k gold-plated sword from the attack and attempted abduction of a few enemy knights of Camelot. Lancelot saves Guinevere with his shield, emblem and colours. The shield, pierced with several arrows, is a 3D printed and hand-coloured insert.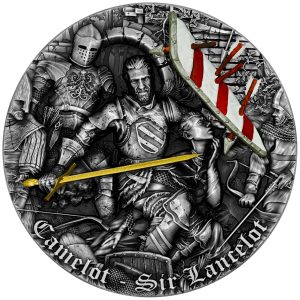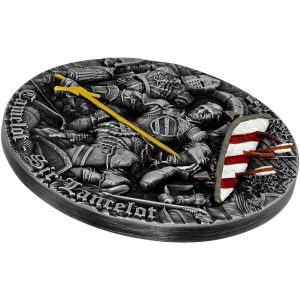 The obverse, as the previous coin of the same series depicts the round table with 11 knights and King Arthur presiding over it. This time is the Lancelot emblem that is plated with 24k gold.