Boudica was a warrior queen of the Iceni, who led several British tribes during the largest uprising in Britain against Roman occupation in the sixth decade of the 1st century, during the reign of Emperor Nero. Boudica is the fourth issue in the Woman Warrior series.
The reverse depicts the War Queen Boudicca, riding a British chariot of the period, with two horses, through the enemy lines of Romans with her spear pointing forward, gold-plated, in her right hand, and her shield in her left hand, a wooden insert engraved with Britain details of the period. The Romans fall dead at the feet of their horses and cause the terror of the soldiers.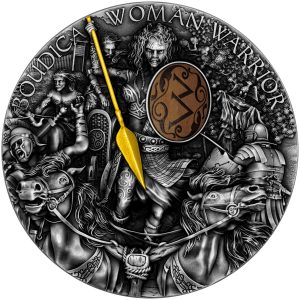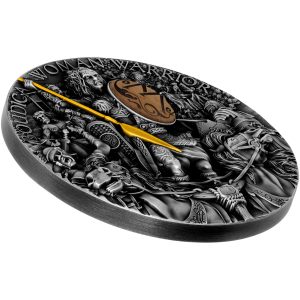 This is the fourth issue of the famous Woman Warrior series, so the obverse depicts, as in the previous coins of this series, a wooden war shield, with the coat of arms of Niue instead of the head of Elizabeth II, due to the death of the Queen and awaiting a new effigy of the new King Charles III.